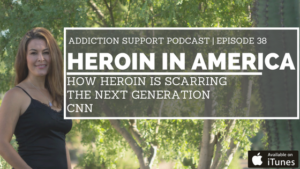 Overview:
America's Drug Death Capital
Sunday morning (Sept 18, 2016) I woke up and checked my iPhone.  I don't normally do that…in fact, I'm strongly opposed to doing that.  However, since I upgraded to IOS 10 before falling asleep I wanted to see what was different on my phone.  The new IOS seems to make checking the news a lot easier.
Somehow I ended up reading the CNN article about Heroin in America by Story by Wayne Drash and Max Blau, CNN.  I couldn't get through the story without crying.
Then I shared it with my husband and again started crying.
Weekends are typically family-time in the Tucker home but I couldn't help myself, I had to record this for those of you who might not have seen it.
I apologize for the sniffles, I tried to pull it together for the podcast but there are parts that are just too sad.  I hope that you'll help me spread the word.  We've got to do something about the heroin epidemic.
Resources:
You can read along with me by going to the CNN article on heroin in Huntington, VA here.
First they came for the Socialists, and I did not speak out—
Because I was not a Socialist.

Then they came for the Trade Unionists, and I did not speak out—
Because I was not a Trade Unionist.

Then they came for the Jews, and I did not speak out—
Because I was not a Jew.

Then they came for me—and there was no one left to speak for me.
Martin Niemöller
Never doubt that a small group of thoughtful, committed citizens can change the world; indeed, it's the only thing that ever has.
Margaret Mead
Comments
comments