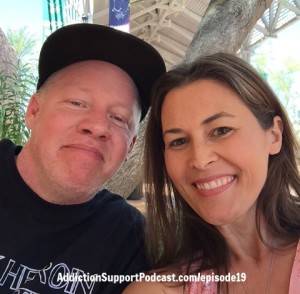 Show Notes for this episode are at addictionsupportpodcast.com/episode19
Overview:
This week I am a total fangirl, nerd because I got to sit down with Jesse Valiente – aka Milkman from Phunk Junkeez!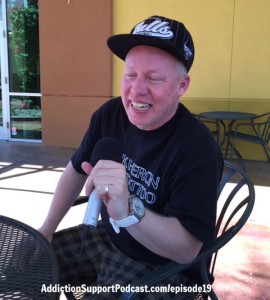 Jesse is a true Spiritual Gangster.
He introduces himself as a "Grateful Recovering Alcoholic and Addict".  He is totally open about ALL of his journey.  He wants people to know that no matter what the craziest, most embarrassing, and "shameful" thing you've done…you are not the only one.  Chances are he's done it too.  And there's a very good chance that you'll hear him share some of those things in this podcast.  You can't help but be drawn into his story but more importantly, you can't help but be drawn into his passion for helping others.  Something tells me that we are going to be hearing a lot more from this man.  Listen to the podcast.  Share with everyone you know.
PJz provided the soundtrack to my life in the late 90's & early 2000's.  One thing you may not know about AZ around that time…we had the "Tempe Sound" which was developing & producing groups like the Gin Blossoms and The Refreshments, eventually becoming Roger Clyne & The Peacemakers and the Phunk Junkeez.  It was a fun time & place to be a teenager or early 20 something.
If you are on the main page of ASP, click on the read more to get the links mentioned in this episode…as well as some classic Phunk Junkeez music AND Milkman's newer work.
Join In – Phunk Junkeez (CLASSIC! One of my all time favorites)

Rap Game Lame – Milkman

Resources:
Go to RecoveryBrands.com/lives to find out more about the video challenge and make your own video to help end the stigma and encourage others to get treatment.  If you let me know about your video, I'll share it on my Facebook page and vote for you (if it will let me).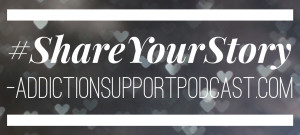 Thank you for Listening!
Thank you so much for joining me this week. Have some thoughts you'd like to share? Leave a note in the comment section below!
If you enjoyed this episode, please share it using the social media buttons you see at the top of the post.
Also, please leave an honest review for The Addiction Support Podcast on iTunes. Ratings and reviews are extremely helpful and greatly appreciated! They do matter in the rankings of the show, help more people find us, and I read each and every one of them.
If you would like to email me, head on over to OakCreekWellness.com/contact.
And finally, don't forget to subscribe to the show on iTunes to get automatic updates.
Special thanks to Jesse Valiente for joining me this week.  Until next time!

Comments
comments