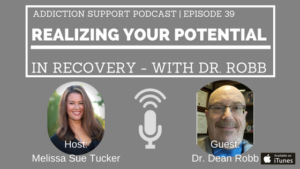 Overview:
You may remember Dr. Robb from Episode 35 when he spoke about true recovery comes once the childhood trauma is addressed.  This week we took a deeper dive in the first of 6 podcasts.  Listen as he goes deeper into his story and shares "Realizing Your Potential in Recovery".
Purpose of life is to become useful in accordance of who you really are.
In this week's podcast, Dr. Robb shares what he calls the central question of his life.  The reality is, our parents are/were not perfect human beings.  Many times they parented through damaged lenses of their pasts.  Dr. Robb shares his experience of his father who became abusive anytime little Dean acted in any way that was not identical to how his father was or wanted him to be.  Later he experienced similar oppression in religion and again in recovery programs.
Through years of therapy he was able to unpack the baggage, feel whole again, and really connect to the beautiful being who he is.
We go into the difference between being a useful member of society and becoming useful in accordance of who you really are.
We also talk about the Zen question: "What did your face look like before your parent were born?"  Dr. Robb shares that this question helps him connect with who he really is, who he was when he was one with God.
Resources:
Dr. Robb can be reached at drrobb@nextstagerecovery.com, by phone at 908-922-3009 or 908-757-4721, on the internet at www.NextStageRecovery.com, on Facebook at  facebook.com/nextstagerecovery, and on Twitter at @RecoverWithDean.
This is the 1st in a series of 6 episodes with Dr. Dean Robb.  Did you hear the others?
Thank You For Listening




Special thanks to Dr. Robb for joining me this week.  Until next time!
Comments
comments