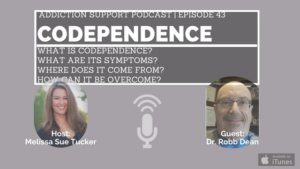 Overview:
In this episode we discuss codependency by answering the following questions:
Where does codependency come from?
What are the symptoms of codependency?
How to overcome codependency?

What is codependency?
Dr. Dean Robb describes codependency as 2 incomplete people who are trying to fix themselves through another person.
What are the symptoms of codependency?
Do you know these two James Taylor songs?  Johnny Comes Back & Be As You Are?  Dr. Robb reads the lyrics and shares how they are codependency for him.
Johnny Comes Back
Live at Waldbuehne Berlin, June 17, 1986 from cassette tape of an SFB Radio broadcast (Sender Freies Berlin)
Be As You Are
Note. This may be a bit more obscure of JTs work. Always liked the way he gets such a complicated thing across so nicely. (I dont think he was getting along with carly simon at the time). great lyrics in thhe love/angst genre 🙂 james taylor, be as you are D G A She's been holding on too long hoping I'm gonna change.
Where does codependency come from?
Children are needy.  Adults need to focus on the child and helping meet their needs.  When this is done, humans can grow up having a sense of safety.  Unfortunately, so many parents and adults are not whole and are not able to give their children the emotional support that the child needs.  This can develop into codependency as we grow up.
How to heal codependency?  How to not be codependent.
Shame is at the core of codependency. One has to realize that emotionally, this will not work for me. They have to be willing to embrace the shame and start working through the emotions and beliefs they have.
Emotionally detach from that person who you are holding onto.
Have your own sense of identity, self-worth.
Find a way to feel safe in the world.
This journey does not happen overnight.
Remember "No." is a complete sentence.
Resources:
Al-Anon: Al-Anon is a great place to find more education and support.  Click here to find a meeting near you.
Dr. Robb can be reached at drrobb@nextstagerecovery.com, by phone at 908-922-3009 or 908-757-4721, on the internet at www.NextStageRecovery.com, on Facebook at  facebook.com/nextstagerecovery, and on Twitter at @RecoverWithDean.
This is the 5th in a series of 6 episodes with Dr. Dean Robb.  Did you hear the others?
Thank You For Listening




Special thanks to Dr. Robb for joining me this week.  Until next time!
Comments
comments