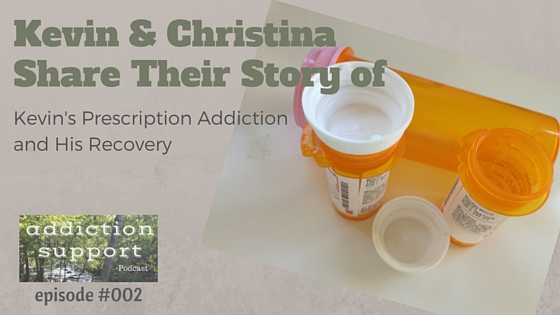 Overview:
This week Christina and Kevin share their story of Kevin's prescription drug addiction and recovery.  They have experienced addiction and now that they are at this point of their journey where they are focused on helping others who have been in their shoes.
Kevin shares how he's struggled with addiction for about 6 or 7 years.  He's been sober about a year now.  They've been married 2 years and they are excited to share their story and give people hope. 
Kevin's addiction included Adderall, Xanax, Vicodin, and Percocet.  He believes that sometimes prescription drugs are just as bad as street drugs. 
Kevin taking Accutane for acne at 16 years old.  Once he stopped taking Accutane he got depressed and was prescribed Prozac for the depression which helped with the depression but it also made him lazy.  Due to the laziness, he was prescribed Adderall.  Listen as Kevin shares his experience with taking more and more Adderall and using Xanax to deal with anxiety.  He was also trading his Xanex for weed.  He then was introduced to Vicodin and Percocet after getting into a car accident.  He describe his cycle of using too much Adderall and Xanax and running out of his prescription earlier than he was scheduled to.
Hear them describe his:
Fear of Detox

No sleep for 5 nights

Paranoia

And spending time at a Mental Hospital
Christina describes her darkest moments when one minute Kevin wanted to go to rehab and the next minute he would turn on her.  When it came time to get on the plane and go to rehab, Kevin said he was not going.  Thankfully he was able to go and get the support that he needed.
They share supplements to help with detox effects and anxiety.  Kevin's mission to get sober and give others hope.  He also shares, what he believes, is the biggest benefit of rehab.
Advice:
Be of service to others

Pray everyday

Having a daily foundation including prayer, reading scriptures, yoga, and meditation.

Love & Understand that the addict is doing the best they can

Don't give up
Resources:
***Please check with your healthcare provider and do your own research before taking these supplements.  These are only recommendations based on what Kevin and Christina have used.
Thank you for Listening!
Thank you so much for joining me this week. Have some thoughts you'd like to share? Leave a note in the comment section below!
If you enjoyed this episode, please share it using the social media buttons you see at the top of the post.
Also, please leave an honest review for The Addiction Support Podcast on iTunes. Ratings and reviews are extremely helpful and greatly appreciated! They do matter in the rankings of the show, help more people find us, and I read each and every one of them.
If you would like to email me, head on over to OakCreekWellness.com/contact.
And finally, don't forget to subscribe to the show on iTunes to get automatic updates.
Special thanks to both Christina and Kevin for joining me this week. Until next time!
Comments
comments