The best way to get treatment if you are addicted to drugs in Missouri is to get pregnant.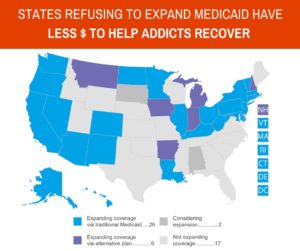 Overview
On this week's podcast you'll hear:
An article from the LA Times 'Obamacare Fight Leaves States Worse Off in Opioid Crisis.'
The 19 states that are going to have less money for addiction treatment programs.
My brother being back in jail.
Issues I'm having with the video visitation company.
What I'm doing now to help figure out treatment in Arizona for addiction.
A rehab in Italy which I want to bring to the United States.
Resources
Noam N. Levey's article in the LA Times which I read on the podcast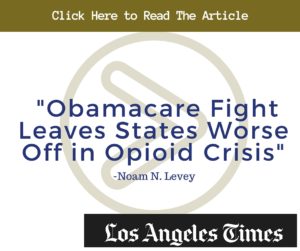 I cannot believe AZ! We have the Governor's Office of Youth, Faith and Family handling drug addiction and substance abuse issues.
It seems to me that addiction should be assigned to an office that deals with medical crisis'.  I guess this is more evidence that we need to educate EVERYONE.  The ADA lists addiction as a disease, it's time that our government does too.  I'll be taking the training they offer. As well as getting involved any way I can to help bring more addiction treatment options to Arizona.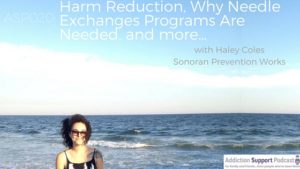 – the Rehab in Italy that I'm excited about.  I want to find out more information and bring something like this to the United States.  I have an email into them and am hoping to have them on the podcast.  Watch the video, it's interesting.
19 States Who Don't Care about the Addiction Epidemic (Below)
CONSIDERING EXPANSION (2 STATES)
Alabama: Gov. Robert Bentley (R) in November 2015 said his administration is "looking at" expansion but has not yet "made a final decision" on whether to expand Medicaid or "exactly how that would work." Bentley said he is interested in expansion because he is "concerned about the plight of the working poor," but noted that state funding for expansion could be a hurdle.
South Dakota: Gov. Dennis Daugaard (R) in Oct. 2013 said he was leaning against expanding Medicaid. However, in a Nov. 2015 interview with the Associated Press, Daugaard said he plans to propose expanding the program during a budget address in December 2015.
NOT EXPANDING AT THIS TIME (17 STATES)
Florida: The Florida Senate in 2015 approved a Medicaid expansion plan, but it was rejected by Gov. Rick Scott (R) and the state House. The state government almost shut down over a budget impasse linked to the issue, but state lawmakers in June 2015 reached an agreement on a final budget deal without an expansion. State lawmakers expect to debate Medicaid expansion again in 2016.
Georgia: Gov. Nathan Deal (R) on Jan. 16, 2013, confirmed he does not support Medicaid expansion. On March 28, 2013, both the House and Senate adjourned for the 2013 session. A bill to encourage Deal to consider expanding Medicaid died in the House in February 2013. Deal in May 2013 signed legislation creating the Joint Study Committee on Medicaid Reform, but it was "for the purposes of determining an appropriate plan for Medicaid reform," not specifically expanding the program under the ACA.
Idaho: Gov. Butch Otter (R) on Jan. 7, 2013, in his state-of-the-state address said Idaho would not expand Medicaid. The state House and Senate both adjourned on April 4, 2013.
Kansas: Gov. Sam Brownback (R) punted the decision on expanding Medicaid to state lawmakers, and the state Legislature wrapped up its session for the year on June 2, 2013, without taking action on any expansion proposals.
Maine: On June 17, 2013, Gov. Paul LePage (R) vetoed a bill (LD 1066) that would have expanded the state's Medicaid program. LePage objected to the cost of expansion and also noted that previous hikes to Medicaid eligibility—which he termed "a massive increase in welfare expansion"—have not worked to reduce the number of uninsured in the state. Two days later, on June 19, 2013, House lawmakers failed to gain the two-thirds majority necessary to override the veto.
Mississippi: Republicans in the Legislature in June 2013 blocked plans to expand Medicaid to an additional 300,000 state residents under the ACA.
Missouri: In February 2014, the state Senate defeated an effort to expand Medicaid in Missouri. However, at least one Republican lawmaker in the state says that the issue isn't over; State Senator Ryan Silvey says he has the support for an expansion proposal. Gov. Jay Nixon (D) favors expanding Medicaid.
Nebraska: In May 2013, Republicans in the Legislature filibustered the Medicaid expansion, which was also opposed by then-Gov. Dave Heineman (R). The expansion could have extended Medicaid coverage to up to 80,000 residents. Another—more conservative—expansion act (LB 887) was introduced January 14, 2014, received a majority vote, but failed to meet the 33 votes needed to jump the filibuster and was indefinitely postponed onApril 17, 2014.
North Carolina: In 2013, the state's General Assembly passed a bill banning Medicaid expansion, but in October Gov. Pat McCrory (R) in October 2014 said that he would consider expanding Medicaid to an estimated 500,000 state residents. Specifically, he said, "I'm also trying to figure out what to do with Medicaid and whether to expand that or not, because the feds are offering all this money, and yet I've got to be concerned with the bureaucracy that could be grown because of that."
Oklahoma: Gov. Mary Fallin (R) rejected the Medicaid expansion in November 2012 and has not proposed an alternate model for expanding insurance coverage for low-income state residents.
South Carolina: On March 12, 2013, the state House Republican majority rejected an expansion of Medicaid, opting instead to allocate $80 million in state and federal funding in South Carolina's budget for a hospital incentive payment program. Gov. Nikki Haley (R) announced in July 2012 that she opposes expansion.
Tennessee: Gov. Bill Haslam (R) on Dec. 15, 2014, announced an alternative plan to expand the state's Medicaid program under the Affordable Care Act. The plan would use federal funds to extend coverage to an additional 200,000 low-income state residents by helping them to purchase health plans offered by their employers or by placing them in the state's Medicaid program. State residents with annual incomes up to $16,100, or 138% of the federal poverty level, would be eligible for the program. The plan must be approved by the state's Republican-led Legislature and HHS to take effect, but Haslam said he already has received "verbal approval" from the administration. However, a key Senate committee in February 2015 voted against the proposal.
Utah: Gov. Gary Herbert (R) in December 2014 outlined his plan to expand Medicaid in his state, but the proposal was rejected by a Utah House committee in 2015. On July 17, 2015, Gov. Gary Herbert (R) and state Republican lawmakers announced an agreement on a broad framework for expanding Medicaid through the ACA. The state will ask hospitals, physicians, and drugmakers to fund the expansion after the federal government stops covering 100% of expansion costs. Under the proposal, the state would provide subsidized private coverage for as many as 126,500 newly eligible residents. Before the plan could be implemented, it would need to pass in the Legislature and be approved by HHS. However, state lawmakers in October 2015 firmly rejected a compromise plan, leaving the state without a "clear path forward" for expansion, Peter Sullivan reports for The Hill.
Virginia: Gov. Terry McAuliffe (D) has pushed for Medicaid expansion in Virginia, but the Virginia Legislature in June 2014 passed a budget that did not include expansion. In December 2014, McAuliffe presented a budget proposal that included an expansion provision, but lawmakers are not expected to accept the provision.
Wyoming: The state's Wyoming's Department of Health in November 2014 proposed an alternative Medicaid expansion plan that would extend the program to about 18,000 state residents with incomes up to 138% of the federal poverty level.The expansion plan, which has the support of Gov. Matt Mead (R), calls for a federal waiver to allow the state to charge monthly premiums and copayments to low-income individuals who choose to participate. However, the state Senate and House in February 2015 voted against the expansion plan, tabling the proposal for the rest of the legislative session.
State info originally posted on https://www.advisory.com/daily-briefing/resources/primers/medicaidmap
Thank you for Listening!
Thank you so much for joining me this week. Have some thoughts you'd like to share? Leave a note in the comment section below!

If you enjoyed this episode, please share it using the social media buttons you see at the top of the post.
Also, please leave an honest review for The Addiction Support Podcast on iTunes. Ratings and reviews are extremely helpful and greatly appreciated! They do matter in the rankings of the show, help more people find us, and I read each and every one of them.
If you would like to connect with me, please do so on social media or email here.
And finally, don't forget to subscribe to the show on iTunes to get automatic updates.
Special thanks to Sandy for sending me the LA Times newspaper clipping and for bringing this podcast together and joining me this week.  Until next time!
Comments
comments