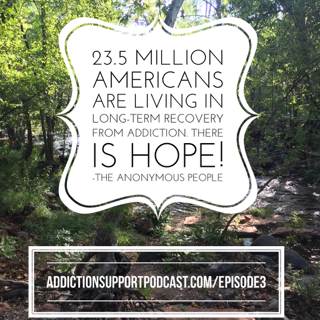 Overview:
This week I share why I'm so upset and really more of why I'm doing The Addiction Support Podcast. I naively thought that by doing this podcast, I'd be starting a conversation. A conversation about how addiction needs to be treated like a disease and not like a crime or a moral issue.
Turns out I'm not starting that conversation, I'm just chiming in. 
That part is great! There are other people out there who believe it's time for a change.
The upsetting part is that this conversation has been going on since the 60's & 70's and was shut down by the "just say no" politics of the 80's and the 3 strikes law of the 90's.
Watch The Anonymous People! It's on Netflix (as of today) and you can find it online.
I also share about my meeting with Dave Cooke of 100pedals.com and his upcoming Empowerment Ride 2016. He's going to ride from LA to NYC while sharing his message!
Resources:

Thank you for Listening!
Thank you so much for joining me this week. Have some thoughts you'd like to share? Leave a note in the comment section below!
If you enjoyed this episode, please share it using the social media buttons you see at the top of the post.
Also, please leave an honest review for The Addiction Support Podcast on iTunes. Ratings and reviews are extremely helpful and greatly appreciated! They do matter in the rankings of the show, help more people find us, and I read each and every one of them.
If you would like to email me, head on over to OakCreekWellness.com/contact.
And finally, don't forget to subscribe to the show on iTunes to get automatic updates.
Until next time!
Comments
comments