Finding sober roommates for his patients was a challenge, so Jesse created the solution.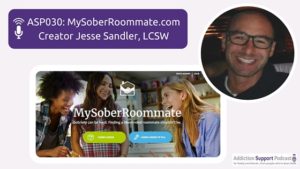 Overview:
My guest this week is Jesse Sandler, LCSW of MySoberRoommate.com.  Growing up, Jesse experienced alcoholism and heroin addiction in his family.  He became a Licensed Clinical Social Worker and has dedicated his work to supporting others deal with addiction issues.  Part of Jesse's role includes helping people find places to live.  He found that there was not a service available that focused on helping people find sober roommates, so he created the service.
My Sober Roommate went live in June 2016 (brand new at the time of this post).  The site connects people who are looking for like-minded people.  You can select the amount of money you are comfortable spending on rent, if you have a room for rent or if you are looking for one, how long you've been sober, and more.
I wanted you to be able to see what the site looks like so I created this video.  Please share, you never know who might be looking for a sober roommate!
Resources:
Twitter @MySoberRoommate
Twitter @MelissaSTucker
Show Notes for this episode are at addictionsupportpodcast.com/episode30
Thank you for Listening!
Thank you so much for joining me this week. Have some thoughts you'd like to share? Leave a note in the comment section below!

If you enjoyed this episode, please share it using the social media buttons you see at the top of the post.
Also, please leave an honest review for The Addiction Support Podcast on iTunes. Ratings and reviews are extremely helpful and greatly appreciated! They do matter in the rankings of the show, help more people find us, and I read each and every one of them.
If you would like to connect with me, please do so on social media or email here.
And finally, don't forget to subscribe to the show on iTunes to get automatic updates.
Special thanks to Jesse Sandler, LCSW – MySoberRoommate.com for bringing this podcast together and joining me this week.  Until next time!
Comments
comments