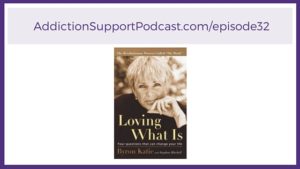 Overview
We're mixing it up this week!  This week I'm reading through the introduction of Loving What Is by Byron Katie.  I've had many people tell me what an amazing book this is, so I thought we could read it together.  Listen to the podcast, then get your book.  Let's read through it together over the next few weeks.
Resources
Be sure to pick up your copy of Loving What Is – Four questions that can change your life.  I love bookstores and strongly encourage you to support your local bookstore.  If you don't have access to one, or just don't have the time – you can click here & get your book through my amazon link.
  Or pick up the audible book here.


Check out this podcast on Emotional Intelligence by Hal Elrod & Jon Berghoff
You might also like:
Thank you for Listening!
Thank you so much for joining me this week. Have some thoughts you'd like to share? Leave a note in the comment section below!

If you enjoyed this episode, please share it using the social media buttons you see at the top of the post.
Also, please leave an honest review for The Addiction Support Podcast on iTunes. Ratings and reviews are extremely helpful and greatly appreciated! They do matter in the rankings of the show, help more people find us, and I read each and every one of them.
If you would like to connect with me, please do so on social media or email here.
And finally, don't forget to subscribe to the show on iTunes to get automatic updates.
Special thanks to You for joining me this week.  Until next time!
Comments
comments