Video game addiction is a very real problem
Cam has solid advice for parents, college kids, and even people into their 50's who are struggling with video game addiction.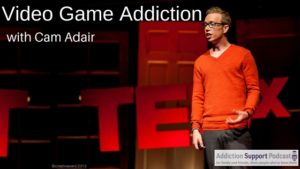 Overview:
My guest this week is Cam Adair.  Cam is the founder of Game Quitters, the world's largest support community for video game addiction, with members in 45 countries.
A talented hockey player, Cam's life took a dramatic turn at the age of 11 when he began to experience intense bullying which led him to drop out of high school not once but twice. He never graduated, never went to college and struggled with depression for many years.
Now as a motivational speaker he travels around the world sharing his message on how we can harness the adversity we face as fuel for growth, connection and purpose. His story has been featured in two TEDx Talks and on major media outlets like FOX.
Watch Cam's TEDx talk on Escaping Video Game Addiction
Today Cam shares weekly videos on
YouTube
where his work has been seen by over a half a million people, and in his spare time Cam enjoys traveling, DJing and surfing. Born in Canada, he currently lives in beautiful San Diego, California.
You can connect with Cam on Twitter, Instagram and Snapchat.
Watch Cam's 2nd TEDx Talk on "The surprising truth about rejection"
Resources:

Show Notes for this episode are at addictionsupportpodcast.com/episode29
Thank you for Listening!
Thank you so much for joining me this week. Have some thoughts you'd like to share? Leave a note in the comment section below!

If you enjoyed this episode, please share it using the social media buttons you see at the top of the post.
Also, please leave an honest review for The Addiction Support Podcast on iTunes. Ratings and reviews are extremely helpful and greatly appreciated! They do matter in the rankings of the show, help more people find us, and I read each and every one of them.
If you would like to connect with me, please do so on social media or email here.
And finally, don't forget to subscribe to the show on iTunes to get automatic updates.
Special thanks to Cam Adair for bringing this podcast together and joining me this week.  Until next time!
Comments
comments