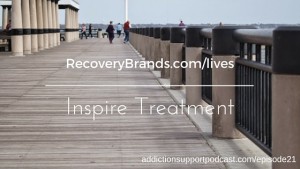 Listen to Addiction Support Podcast Episode 21
Thank you for Listening!
Show Notes for this episode are at addictionsupportpodcast.com/episode21
Overview:
This week we have Melanie Haber of Recovery Brands on the podcast.  Melanie shares how you can enter to win $10,000 by creating and submitting a video focused on encouraging people to get treatment while reducing the stigma.

Melanie Haber is the VP of Brand Development at Recovery Brands and runs the company's New York City office. Since January 2014, she's worked to enhance Recovery Brands' brand credibility in and outside of the industry, while growing and overseeing our Research, Marketing, Social Media, and PR departments. Prior to joining RB, Melanie created The Helpline & strategic partnerships for an online publication focused on addiction and recovery, was a Therapist at Trenton Psychiatric Hospital, and held marketing positions at some of the entertainment industry's top corporations. She holds her B.A. in Communications from The University of Pennsylvania and her M.A. in Creative Arts Therapy from Drexel University.
Resources:
Thank you for Listening!
Thank you so much for joining me this week. Have some thoughts you'd like to share? Leave a note in the comment section below!

If you enjoyed this episode, please share it using the social media buttons you see at the top of the post.
Also, please leave an honest review for The Addiction Support Podcast on iTunes. Ratings and reviews are extremely helpful and greatly appreciated! They do matter in the rankings of the show, help more people find us, and I read each and every one of them.
If you would like to email me, head on over to OakCreekWellness.com/contact.
And finally, don't forget to subscribe to the show on iTunes to get automatic updates.
Special thanks to Melanie Haber & the amazing people at Recovery Brands for bringing this podcast together and joining me this week.  Until next time!
Comments
comments