Loving What Is is one of those books that will change your life, if you let it.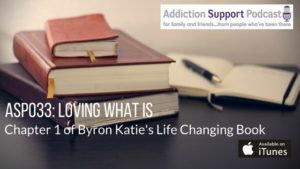 Overview
I'm a huge fan of personal growth. I see it as both our responsibility and our opportunity.  That's why I'm reading Loving What Is by Byron Katie.  This book has been referred to me at least 4 times since I started this podcast.  So far, I've been able to feel A LOT better about somethings in my life that I was trying to control.  Honestly, I've used The Work in Loving What Is to help me feel better about my relationship with my mother-in-law.
This podcast is focused on addiction and all the craziness that goes into that.  While on the surface my relationship with my  mother-in-law might not seem like it has anything to do with addiction…but I think it does.  I have spent weeks at a time feeling very upset about things she's said and done.  I've lost time on projects over her.  My relationship with my husband and kids have been strained at times because I was spinning about her.  See – it does have something to do with addiction.  I've behaved this same way over my brothers in the past.
If you're being honest with yourself, you've spent precious time and energy spinning out over people in your life who you care about, too.
So for me to be able to look at her behavior in a totally different way, in a way that I don't give away (all) my power, that's pretty remarkable. I hope you are open to going deep within yourself as you listen to this podcast.  Do The Work so that you are able to feel happy and live your potential.
Resources
You can hear the preface & set up of Loving What Is in Episode 32
Click here to order your hardcopy of Loving What Is

Get the audio version here
You might also like:
Thank You For Listening




Special thanks to YOU for joining me this week.  Until next time!
Comments
comments